Accomodation
[Note that the block of rooms at the Inn & Conference Center will be held only until September 28, 2004 - book now!]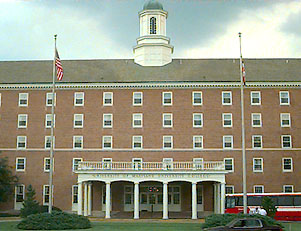 Please Use this link for Reservations!
University Inn and Conference Center Marriott, Reservations

Inn and Conference Center
University Of Maryland
University Blvd and Alelphi Road
College Park, MD 20742
301-985-7955

Reservation information is located in the link above. Please remember to mention that you are reserving for the MUM'04 conference in order to receive the MUM'04 discount.
The Inn and Conference Center (ICC) is enormous (32,000 feet of meeting space) and very well run Marriott conference center on the campus of the University of Maryland (located at the University College) is a very popular location for meetings, large and small.
An efficient business center is available for last-minute copying and faxing. The second floor provides a state of the art auditorium with satellite downlink capability and numerous smaller workshop rooms. The first floor offers a variety of flexible banquet/lecture spaces, as well as two restaurants, one casual.
108 guest rooms include complimentary daily newspaper, telephones with dataports, irons and boards. There is valet service available, as well as plentiful covered parking.
For your free time, there's an exercise room; golf, racquetball, tennis and a swimming pool are available on campus, and throughout the conference center you'll find an extraordinary collection of art to enjoy.
Alternative Options
The University of Maryland maintains a list of local hotels. Among these, we would rate the Quality Inn, Comfort Inn and the Best Western, all located in College Park, as the preferred choices. They're not fancy, and they're on a busy street, but the rooms are clean, and they offer a free shuttle to campus (they're about a mile away). Their prices are also pretty good.