The Maryland CPU-GPU Cluster is a unique computational infrastructure that leverages the synergistic cluster coupling of CPUs, GPUs, displays, and storage.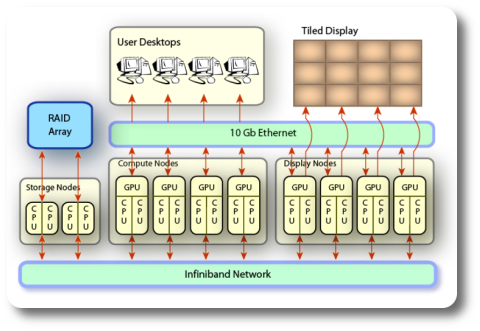 Project Goals
Build upon the synergies afforded by coupling CPUs, GPUs (graphics processing units), displays, and storage.
Driving Force: Evolution of GPUs into powerful, programmable, and inexpensive stream processors.
Explore interleaved computation and display using multiple networks on the same cluster.
Explore mapping several applications to this heterogenous and unique computational infrastructure.
Learn more ...
Driving Applications
High-performance Computing - Querying and Visualization of Large Scientific Datasets
Scientific Computing - Multi-particle Dynamics, Fast Multipole Method, Linear Programming
Scientific Visualization - Visualization-assisted Computational Steering for Protein Studies
Virtual 3D Audio - Real-time Soundscape Rendering
Computer Vision - Modeling and Visualization of Humans and their Activities
Learn more ...
Participants
Principal Investigators

A. Varshney, R. Chellappa, R. Duraiswami, J. JaJa, D. O'Leary

Senior Investigators

S. Bhattacharyya, M. Cummings, L. Davis, H. Elman, L. De Floriani, F. Guimbretiere, D.Jacobs, D. Mount, H. Samet, A. Sussman

Systems Staff

F. McCall, B. Erdman
Learn more ...
Acknowledgements
NSF CISE RI 04-03313