COVID-19 Resources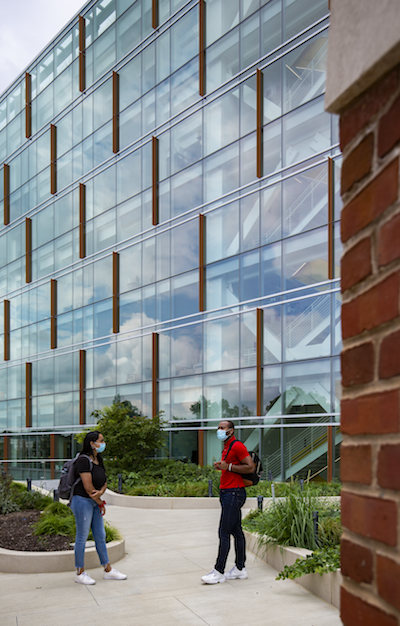 UMD will resume operations at full capacity in the Fall 2021 semester. COVID-19 vaccinations are required for all students, faculty and staff returning to campus. Once vaccinated, you do not need to be tested regularly. Community members who are unvaccinated need to be tested twice weekly, regardless of exemption status.
Wearing a mask indoors is required for everyone, regardless of vaccination status. There are no capacity limits or physical distancing restrictions, except for campus healthcare facilities. The university's travel guidance currently allows essential and non-essential travel within the United States. Restrictions are still in place for international travel.
To ensure the safety of our community, we will adapt our support operations based on the current level of community COVID-19 transmission for Prince George's County. When the county is at the CDC's Substantial and High levels, our IT and business offices will strongly encourage virtual interactions and appropriate distancing during in-person interactions. To view the status and guidelines, see the Help Desk Covid page.
During the fall semester we will not provide food or drink at UMIACS meetings, and strongly discourage you from eating or drinking during in-person meetings. If you are organizing an event supported by UMIACS staff—and you plan to provide food—please coordinate with us ahead of time so that we can ensure it's set up in a way that allows people to serve themselves and eat in an appropriately-distanced manner.
When you come to campus, please adhere to the following:
Room Safety
Huddle rooms are limited to one person at a time.
Disinfect work surfaces and commonly touched items with supplied cleaning supplies upon arrival and departure.
Eating is not allowed in labs or grad student shared spaces. Please use the common kitchenette areas on each floor. Go here for guidance on safe eating during the pandemic.
Personal Hygiene Behaviors to Reduce Spread
Do not come to campus if feeling unwell for any reason.

Wear face coverings (strongly encouraged even if alone in a room) when inside buildings, outdoors and when in the presence of others.
Cover your mouth and nose when sneezing or coughing, and use best practices for hygiene
Use your best efforts to avoid touching your eyes, nose and mouth.
Wash hands for 20 seconds with soap and water frequently. If soap and water is not available, use an alcohol-based (at least 60 percent) hand sanitizer.
Resources