COVID-19 Resources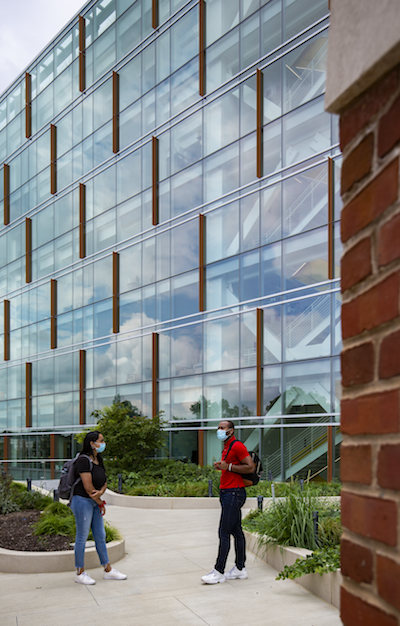 Students, faculty and staff should continue to work remotely as much as possible. If you are considering returning to campus, please review the university's COVID-19 information page and Safety Assuredness Plan for CS and UMIACS, which contains contact information on coordinating shift schedules and requesting access. Graduate student researchers returning to campus also need to complete this form.
To work on campus, you are required to be tested for COVID-19 once every two weeks, and complete a symptom monitoring form daily, regardless of vaccination status. To view available testing dates and times, schedule an on-campus COVID-19 testing appointment, and attest your results, visit the university's Return Portal.
After May 22, all those who have been fully vaccinated and do not have symptoms will no longer need to be tested to work on campus. On July 5, UMD will move to Phase 2 of the Fall 2021 plan for expansion of in-person activities. On August 2, the start of Phase 3, campus activities will return to almost normal—with labs, offices and classrooms at full capacity.
Go here for more information about the phased plan and how it affects behaviors, people and facilities.
To check the status of COVID-19 on campus, visit the Keep Terps Safe UMD COVID-19 Dashboard.
Vaccines
COVID-19 vaccinations are required for all students, faculty and staff returning to campus this fall semester. The university recommends for everyone to get vaccinated as soon as possible, and no later than August 2. Walk up vaccinations are now available at all mass vaccination sites in Maryland.
Administrative leave for vaccine appointments is available to regular and Contingent II staff and faculty. Go here for more details.
The university will post more information on or before June 1 about submitting your vaccination verification. Go here to learn about the University of Maryland's guidelines on vaccines.
When you come to campus, please adhere to the following:
Room Safety
Wear a mask at all times and maintain a six foot distance from others.
No simultaneous occupancy of adjacent or opposite seats/desks.
All rooms have a limited capacity of one person per 150 square feet. (The maximum occupancy is posted outside each graduate student room).
Huddle rooms are limited to one person at a time.
Disinfect work surfaces and commonly touched items with supplied cleaning supplies upon arrival and departure.
Drop-in visits are not allowed if room is at maximum capacity, and visits are restricted to 30 minutes or less.
Personal Hygiene Behaviors to Reduce Spread
Do not come to campus if feeling unwell for any reason.
Wear cloth face coverings (strongly encouraged even if alone in a room) when inside buildings, outdoors and when in the presence of others.
If you are using a room while not wearing a mask, please leave a note stating that you have done so and mark the time when you left the room. This will allow other students to manage the level of risk they are willing to take (e.g. waiting 1-2 hours before entering a room where an unmasked person was).
Cover your mouth and nose when sneezing or coughing, and use best practices for hygiene
Use your best efforts to avoid touching your eyes, nose and mouth.

Wash hands for 20 seconds with soap and water frequently. If soap and water is not available, use an alcohol-based (at least 60 percent) hand sanitizer.
Coordinating Access and Shift Schedules (for rooms over maximum capacity)
Students should work with their office mates to select shifts using the established graduate student room mailing list.
Students should communicate directly with each other if they need to swap days/times at any point.
More information on shift schedules, how to coordinate, and who to contact is available in the Safety Assuredness Plan.