AI Student Startup Streamlines Social Media Engagement
Have you ever given a shout out to your favorite clothing brand or restaurant in a social media post only to be ignored? If you took the digital snub personally, you might part of the one-in-five consumers who no longer give their business after being ignored on social media.
That could soon be a problem of the past, thanks to an artificial intelligence (AI) platform designed by University of Maryland (UMD) students and alumni. Their user-friendly web-app empowers brands that are struggling to engage with messages and comments on social media by streamlining creation and then testing and deploying conversational AI.
Sung Hyun "Thomas" Noh, a senior in the Immersive Media Design program (pictured left), founded the startup Sociable AI, a marketing platform designed to automate social media engagement and bolster brand loyalty.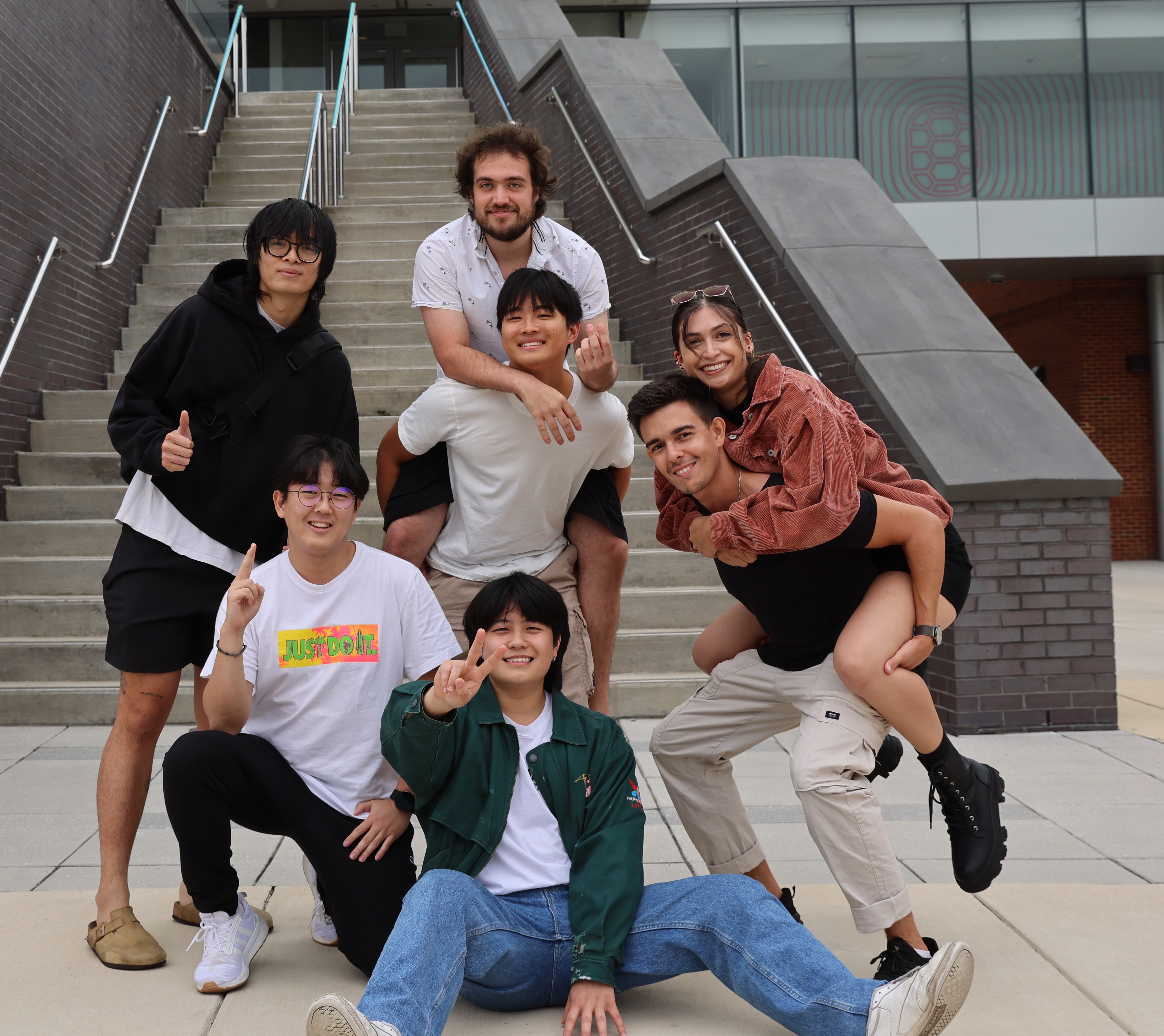 In addition to Noh, the Sociable AI team (pictured right) includes UMD alumni Gabriel Mafra, who graduated in 2020 with a B.S. in architecture; and Nikita Shavirin, who graduated in May with a B.S. in computer science; as well as current students Katherine-Aria Close, who is double majoring in environmental science and policy and graphic design; and Jiheon Kim, Erik Chou, and An Tran, who are all computer science majors.
Scaling up client interaction on social media as your brand grows exponentially can be challenging, says Noh, who adds that nearly two-thirds of businesses fail to keep up. He describes Sociable AI as "a cutting-edge conversational AI marketing solution for brands."
"Imagine cloning yourself or a brand's personality into an AI and let it handle all the work on social media," he says.
One of the UMD startups' clients in the entertainment industry has 80,000 loyal social media followers. While this brand loves interacting with their followers, they simply do not have the bandwidth to really spend time engaging with their audience, Noh explains.
Through Sociable AI, the client was able to train an algorithm that replicated their previous interactions with fans, generating automated interactions that are both informative and engaging. This resulted in the client saving 300 working hours annually, as well as increased audience engagement.
"There's an expectation for businesses to leverage AI for growth, but many struggle to understand its integration," Noh says. "Platforms like Sociable AI bridge this gap, enabling even those unfamiliar with AI to seamlessly adopt it into their daily practices."
Currently, Sociable AI is only available for messaging apps like Discord and Telegram, but within the next couple of months, Noh expects it to be compatible with X (Twitter), and Meta platforms such as Instagram, WhatsApp, and Facebook.
Within five years, he aims to position Sociable AI as the gold standard in conversational marketing. "We aspire to be akin to companies like Shopify and MailChimp, which empower businesses with technology, making it more accessible and efficient," he says.
The majority of Sociable AI's $42,500 in funding and digital resources came from UMD programs like The Do Good Institute, Startup Shell, and Dingman Center for Entrepreneurship.
"Taking the plunge into a startup for the first time, especially if you're not a serial entrepreneur, is undeniably daunting, but UMD makes it a smooth transition," says Noh, adding that in addition to funding opportunities, the university's expansive entrepreneurial network has truly been indispensable.
—By Maria Herd, UMIACS communications group
—Adapted from an article by the Department of Computer Science