More Information about the Campus Residence Halls
As mentioned in the conference Lodging and Hotels page, the South Hill Residence Halls have suite-style accommodations that resemble small apartments without a kitchen. They are conveniently located to the conference meeting rooms and other events.
What to Expect in Your Room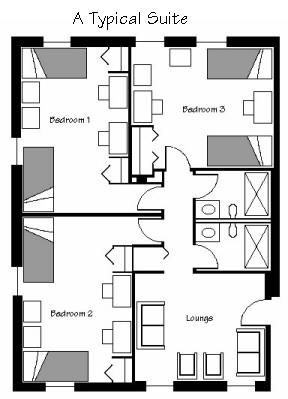 Suite units have a combination of single and double rooms sharing common bathroom and living space.
All suites are assigned by gender. As a rule, mixed-gender suites are not offered. If you would like to share a room with someone of the opposite sex, please contact the conference organizers.
Suites are located in the South Hill Community and a 24-Hour Hospitality Desk is located in Annapolis Hall.
All suites are air-conditioned.
Suites house 4-8 people (depending on the number of double and single occupants).
Telephones are provided in suites and apartments. (One phone per room. A calling card is required to call off campus.)
Each bedroom is equipped with a twin bed, bureau, desk, and chair for each participant assigned to the room.
Standard linen service is provided for guests and includes 1 pillow, 1 pillowcase, 2 sheets, and a blanket.
Towels may be exchanged daily and sheets may be exchanged weekly.
Daily maid service is not provided. Rooms and bathrooms are cleaned prior to a group's arrival.
At the hospitality desk, the friendly student staff help guests:

Check in and check out. Unless prior arrangements are made, check in is after 3:00pm and check out is at 11:00am.
Exchange linen.
Obtain general information about campus.
Pick up and return room keys.
Pick up parking passes and campus map.
Report maintenance issues and any other inconveniences.
Retrieve phone messages and mail.
Due to limited availability for on-campus housing during the summertime, no refunds will be given after May 22, 2008. There will also be no refunds for early check out.
Arrival information, maps, driving directions, and check-in procedures can be found under the Arriving navigation tab.
For more detailed information of on-campus housing and dining, please refer to the Conference and Visitor Summer Guest Guide.
Return to the Lodging and Hotels page.