Towards Next Generation User Interfaces and Videoconferencing Systems
Dmitry Zotkin, Ramani Duraiswami, Larry S. Davis


See other PIRL Publications
---
Created On : 03-16-2001


Perceptive Interface and Reality Lab
Moore's law
- Computing power is increasing
- Computers are becoming more widespread
- Used for new cool things such as Virtual Reality
Yet … human-computer interaction is still done using a keyboard and a mouse

There is a need for better, unencumbered HCI

The computer must
- Understand Speech and gesture commands
- Track the user reliably and focus on him/her to capture audio and video modalities of interaction
- Track the user's pose and adjust experience for Virtual Reality and Augmented Reality applications
Our research is aimed at locating and capturing a moving user's gestures and voice.
Multimodal tracking algorithms
Goal: Combine tracking of users from both video and audio data

Helps track through occlusions and achieves more robust tracking

Uses the 'CONDENSATION' tracking framework
- The directly unobservable object state is derived statistically from available measurements which depend on the state (position, color, shape, etc.)

Our multi-modal tracker uses both audio and video measurements

Applied in experiment to track flight path of a flying bat while capturing prey.
Videoconferencing and smart VC
Unattended "smart" videoconferencing
- Send most informative shot and noise free voice data to remote site using the computer as a cameraperson

Requires similar multimodal algorithms

Our experimental system
- Two cameras, two microphone arrays
- Operates in real-time on a PC

Combined audio-video tracking of a speaker

Sound enhancement for speech recognition

Smart camera switching

Example with two people in the picture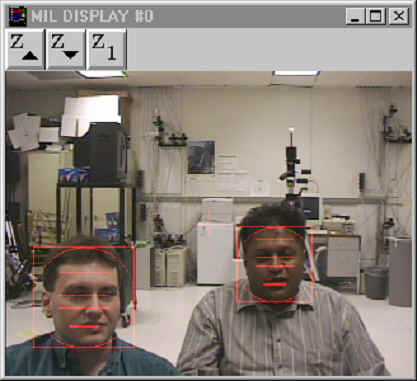 Occlusion handling and performance
In the framework of CONDENSATION tracker, it is possible to use partial measurements

Essentially, occlusion handling is done for free

E.g. if the subject is occluded in one camera

Or the audio cross-correlation is not reliable

In these cases, tracking is continued with available measurements only

The picture on the right shows a track in a VC setup with simulated one camera occlusion

The performance of the tracker is sufficient for real-time operations. To improve the tracking accuracy, quasi-random sampling is implemented.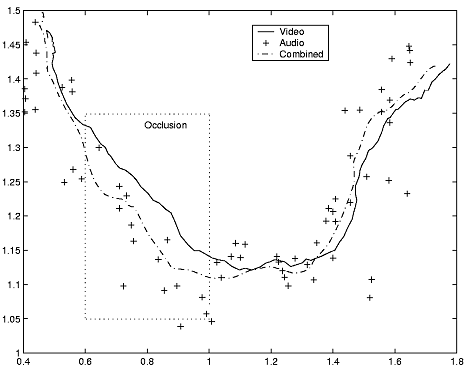 Fast multiple source localization
Acoustic source localization in reverberant rooms is hard due to noise

Developed a novel robust algorithm that actively searches space for sources.

Search is made fast by using a dual coarse-to-fine hierarchical search in both space and frequency. Results in a robust algorithm

| | |
| --- | --- |
| Localization error (m) vs. signal-to-noise ratio (dB) for a conventional algorithm and our doubly-hierarchical algorithm | Energy map of 4 sound sources in a room |
HRTF project and video tracking
A novel big project: create Virtual Auditory Spaces

Humans use cues arising from ear and head shape to localize sound sources

Cues change with the position and pose of the user

Project goal is to synthesize these cues by fast numerical computations

Demonstration: Render virtual audio scene for the user through headphones

To keep the rendered scene stable, low-latency tracking of the position and orientation is required

Multiple-camera setup to track the position in 3D

This work is ongoing.