Textual Information Access for the Visually Impaired
Ali Zandifar and Changjiang Yang, Ramani Duraiswami,
Larry Davis and Nail Gumerov
---
Created On : 03-16-2001


Perceptive Interface and Reality Lab
Approximately 1 million legally blind and 5 million visually impaired people live in the US. Similar proportions elsewhere
Wearable computer based prostheses could help them access visual information in the environment.
A significant portion of the available information in the world is textual
- Product and pharmaceutical labels
- Grocery and department store aisle signs
- Street signs, ATM instructions etc.
Goal:
- Develop a personal reader using off-the-shelf OCR and text-to-speech, wearable computers and cameras.
- Developing necessary computer vision algorithms.

Preliminary Prototype and Hardware
Develop a personal reader that can be used to read magazines and newspapers.
Direct it to the low vision population and use user input to detect text


Color firewire camera with controllable zoom, focus, iris and saturation mounted on a light helmet
Computer Vision and image processing unit
Output and User interface( a speech synthesis module and/or display unit)

Identify test bearing region in the image
Unwarp text bearing region into front-to-parallel rectangles to provide input to Optical Character Recognition (OCR)
Develop dictionaries and strategies OCR on data in a specialized format (warnings, nutritional labels) that have a known format and dictionary
Stabilization of the video image be stabilized to compensate for motion or jittering by a moving person
Super-resolution and mosaicking of an image sequence
Real-time Camera Control
Develop a user-interface suitable for the visually impaired

(bold – currently active research areas)
See individual Links
- Unwarping Text on Curved Surfaces
- Mosaicking
- Super-Resolution Enhancement

Unwarping Text on Curved Surfaces
Using differential geometry based constraints to unwarp the image .
On the warped surface:
- Curves have the same length
- Enclosed curves enclose the same area
Use constraints and regularity of text spacing to unwarp text.

TOP
Images captured by a camera are low resolution.
Capturing pieces of a page at high zoom and then stitching the pieces together ("mosaicking") is a solution
To determine the scan protocol:
- Get the rough estimate of Camera zoom with respect to readable font size OCR
- Zoom to the region of interest and auto-focus to remove degradation

Super-Resolution Enhancement

In super resolution multiple low resolution images (that are slightly displaced) are combined to achieve a high resolution image.

Subpixel registration of images by phase correlation method.

Automated super-resolution of image sequences using back-projection and MAP estimator.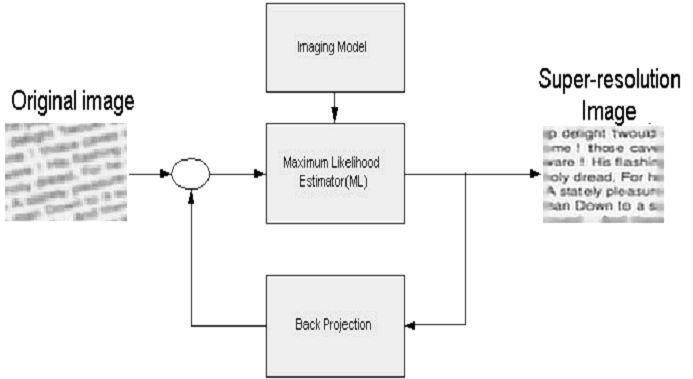 TOP